MATALA "LIVING IN THE MOMENT
"Today is life, tomorrow never comes…" is the motto of Matala, one of Crete's most famous destinations.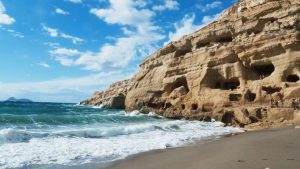 Located 70 kms from Heraklion on the south coast, this unusual beach attracts visitors who come to explore its caves and admire its sunsets, in a slightly hippy atmosphere.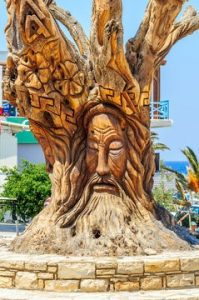 Indeed, one of the most famous features of Matala beach are the caves carved into the cliffs of the bay.
These small Neolithic caves were first occupied by the Romans and then, in the 60s, became a landmark for the hippie movement and the quest for freedom.
They have attracted celebrities such as Joni Mitchel, Bob Dylan, Janis Joplin and Cat Stevens.
This is how Matala became the capital of a world without taboos.
In recent years, the area has developed as a tourist attraction, with its hippie history as the backdrop, frescoes, a bazaar-like market with several store doors opening onto a covered street, and artworks reminiscent of the hippie era.
Matala's west-facing beach is perfect for enjoying the sunset, so be sure to come early to see the color of the cliffs change as the sun sets.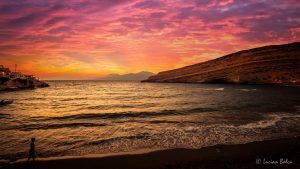 Come live in the moment in Matala!