Summer Bliss – Tips and ..the basics
As summer approaches, Greece becomes one of the most popular tourist destinations in the world. Greece has a lot to offer tourists, including breath-taking beaches, gorgeous architecture, and a vibrant culture. However, planning a trip to Greece during the summer months can be a bit challenging, especially for first-time visitors. Here are some easy suggestions to help you have an unforgettable summer in Greece.
Greece is a well-liked summer vacation spot, and at the busiest times of year, lodging can fill up rapidly. Book your stay as soon as you can to prevent the disappointment of not being able to find acceptable lodging. Make sure to check where your lodging is located to make sure it's handy to the places you wish to visit. If you haven't found something already check our friend's options here.
2. Dress Appropriately
Greece is a very conservative nation, so it's important to dress correctly, especially while visiting places of worship. Men are obliged to wear long pants, and women are expected to cover their shoulders and knees. It's acceptable to wear swimsuits to the beach or pool, but remember to cover yourself when you're out and about. Also, keep some towels for the car seat if you are wet from swimming.

3. Stay Hydrated
Greece may get very hot during the summer, so it's important to drink plenty of water. Make sure you always have a water bottle on you and stay hydrated all day. Choose bottled water instead of drinking tap water. Keep also in mind that water-bottles in Greece are relatively cheap.
4. Be prepared for crowds.
Greece is a well-liked summer vacation spot, and during the busiest months, many sites can become congested. In order to avoid waiting in line, make sure you get your tickets in advance whenever you can. Try to visit popular locations in the early morning or late afternoon when there are fewer people around. A great option is to explore various other places, less known, with imaginable beauty – hidden gems. You always have your car-rental to move around though, if not, take a look!
5. Learn some Greek phrases.
Even though the majority of people in Greece speak English, picking up a few Greek words and phrases can greatly enhance your experience. Your efforts will be appreciated by the locals, and they will also make it easier for you to get around the nation. Learn some fundamental words and phrases, such as "hello," "thank you," and "excuse me."
"hello" → Gia su ( «γειά σου» )
"Thank you" → efcharisto ( «ευχαριστώ» )
"excuse me" → Me synchoris ( «με συγχωρείς» )

6. Try the local cuisine.
You should make sure to sample some of the regional cuisine when visiting Greece, which is renowned for its delectable food. There is something for everyone, from fresh seafood and Greek salads to moussaka and souvlaki. Try some of the neighborhood tavernas without being afraid to leave the tourist districts.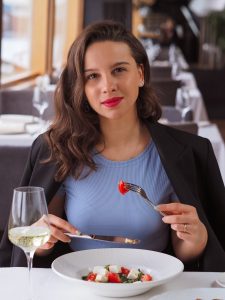 Overall, visiting Greece in the summertime can be a life-changing adventure. These easy suggestions will help you have a more relaxing and enjoyable trip. Make sure to reserve your lodging in advance, dress appropriately, drink plenty of water, be ready for crowds, learn a few Greek words, drive around the island and taste the local cuisine
Enjoy your journey!